Hi everyone, sorry it's been a while since my last post! I've been so busy with Uni and Placement and just haven't had the time for blogging.
Makeup Geek
eyeshadows have been a staple in my make up bag for the past few months and for good reason! I decided to purchase a few of their shadows after repeatedly noticing people mention them on instagram, particularly
Kayla Hagey
. Bitten, Frappe and Peach Smoothie were the three shadows that I seemed to hear about most so I decided to buy them first. I have also bought Cocoa Bear, Mercury, Unexpected and Mermaid.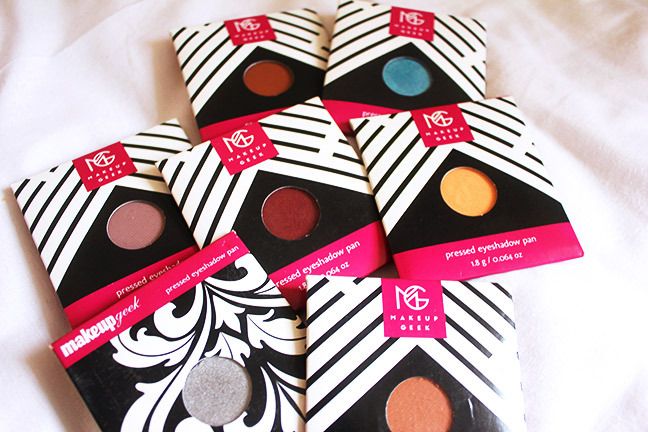 Each pan is only $5.99 (roughly £4) which I think is really cheap considering the quality. The shadows are highly pigmented and not chalky at all which is a problem I tend to have with quite a lot of matte shadows. They also blend really well and don't crease (with primer) so they tick all the boxes for me.
I was a little hesitant to order from Makeup Geek at first since it's an American company so I assumed shipping would be expensive and I was scared of getting charged at customs. I decided to do a bit of research and found a post on Makeup Geek's Facebook page discussing customs charges. A few people from the UK had said that they had not been charged with customs as long as their order was around $25 including shipping. I decided to make an order and stick to this budget. Shipping was $6.99 (roughly £4.62) which I was surprised by as I thought it would be more expensive. I think it was actually $1 less the first time I ordered.
I've stuck to this method each time I've bought things from Makeup Geek and haven't been charged customs yet. I usually get 3 eyeshadow pans which costs roughly $25 including postage. The shadows are really well packaged in a little box with lots of bubble rap and styrofoam things to ensure that they aren't damaged.
Bitten
: Matte burgundy/maroon red. As soon as I saw Bitten I knew it would be right up my street because I
love
burgundy! This is definitely my favourite shade. I use it for everything - all over the lid for a darker look, blended into the crease and/or smudged out under my lower lash line.
Cocoa Bear
: Warm matte reddish brown. This is a beautiful shade which looks great on the outer corner/V to add depth.
Frappe
: Warm matte medium brown. I think this is a great transition shade and I've been using it more often than not.
Peach Smoothie
: Light matte peach. This is also a great transition shade. I was skeptical at first as it's not a shade I would usually pick but I love it now and find myself reaching for it a lot.
Unexpected
: Matte pale purple/pink with brown tones. I'm a huge fan of purple eye looks and this is the perfect transition shade for just that. However, I don't find myself reaching for this one too often for any other look.
Mermaid
: Metallic blue/teal with gold reflects. I've been trying to experiment more with colour so I decided to buy Mermaid when I made my most recent Makeup Geek order. It's such a beautiful shade and so highly pigmented. I have had the chance to do a look with it yet but hopefully I will soon.
Mercury
: Metallic silver (slightly greyish). I've always loved silver eyeshadows and they used to be my go to when doing my make up for a night out so I had to get this shade. It's really pretty although I find it looks slightly darker when applied to my lid and it can sometimes be difficult for me to build up the colour.
Here are swatches of the shadows - one swipe without primer:
Makeup Geek have a fantastic selection of colours to choose from and I really want to get my hands on more in the future. I'm dying to try some of the foiled shadows in particular and the insomnia pigment which is supposedly a dupe for MAC's blue brown. I also ordered a
Z Palette
last night which I've been meaning to do for quite a while. My Makeup Geek shadows are currently floating around my makeup bag in their original packaging slip thing which is a bit of a nuisance so I'm excited for that to arrive!
Here's a quick look I did before placement using Peach Smoothie, Frappe and Bitten to try out some of my Makeup Geek Shadows. Sorry it's nothing fancy because I have barely any time to get ready in the morning before getting the train. This look definitely doesn't do the shadows justice!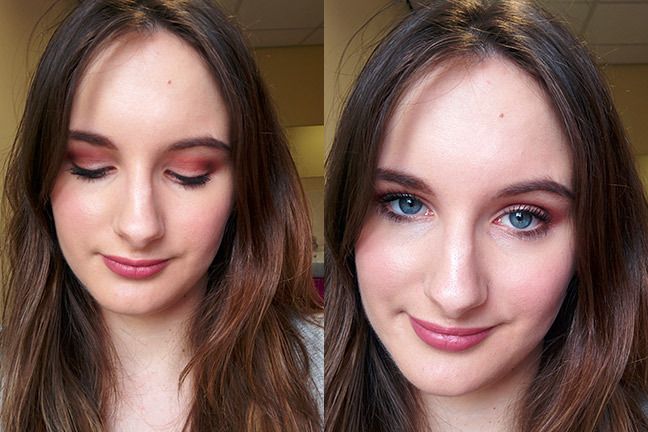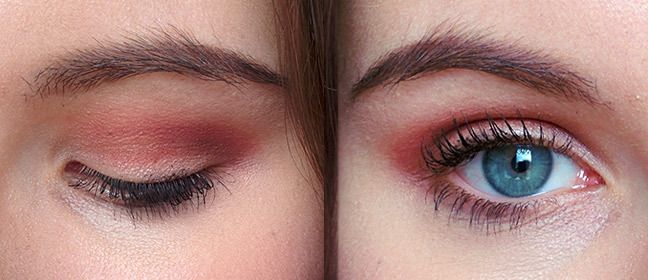 Have you tried any of Makeup Geek's products?
Do you think they're comparable to higher end brands like MAC?